projects & clients
RESEARCH ~ CONSULTING ~ WEB ~ MARKETING

Latest assignments: Consulting and copy writing for new Mura CMS site for Hadia Swiss Medical, hadiamedical.ch (with Netfusion GmbH).
Besides other activities for other clients, I'm responsable for all online activities of schweizerfamilie.ch since January 2013. This includes website, newsletter and social media.

Some of the sites I produced and/or maintain(ed): Web and communications consultant for PLUTSCHOW | FELCHLIN, (website based on artbutler/easyweb launched 2014) ~ new Wordpress site for cianciarulo.com (launched 2014) ~ Fachstelle UND's website und-online.ch (2013 / TYPO3 / in collaboration with LOGLAN GmbH) ~ schweizerfamilie.ch (2012 / TYPO3 / with Abteilung für Gestaltung GmbH) ~ artcommlimited.com (Wordpress) ~ lapsus.ch (TYPO3) ~ osteo-haktanir.ch (TYPO3) ~ pessatti.com (TYPO3) ~ lienhardthalmann.com (TYPO3) ~ manuelabachmann.ch ~ physio-burgernziel.ch (TYPO3) ~ peripher.ch ~ entrepreneurship.zhdk.ch (TYPO3) ~ www.vereinbarkeit.zh.ch ~ meka-garten.ch ~ barbaraschaier.ch ~ schneider-moehr.ch / moehrschneider.ch ~ cantatore.ch ~ physio-erlenbach.ch ~ sgap-sppa.ch ~ el-status.com ~ culturalmediastudies.zhdk.ch (TYPO3) ~ physiotherapie-wissenschaften.ch ~ trixangst.ch ~ carmelosobrino.com ~ mpparchitekten.ch ~ physioswiss.ch ~ martinhauzenberger.ch ~ kameru.ch ~ casaaboy.org ~ and many, many more ...

May 2010 - June 2011: research assistant in the project Cultural Entrepreneurship (GEBERT RÜF STIFTUNG / AVINA STIFTUNG / ZHdK) // May - July 2012: ad interim Ad Manager at Tamedia AG // August - December 2012: Web editor for Schweizer Familie, Tamedia AG, responsible for the relaunch of the website (12/12/12) and for its maintenance and development since 1/1/2013.

ART
New project: Colonial Comfort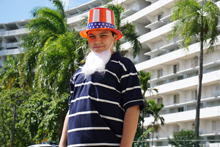 19.9.-20.11.2014: Caribbean Museum Center for the Arts, St. Croix/USVI
25.6.-25.10.2015: Museo de Arte Contemporaneo de Puerto Rico, San Juan/PR


www.el-status.com
Looking back:
The el-status.com project FAS|PR|2013 took place October 3-26, 2013. The sound art fair was hosted at the University of the Sacred Heart in San Juan, Puerto Rico. ArtNexus featured the event. In March 2014 the exhibition won the international art critic prize (AICA-Puerto Rico: "Best Interdisciplinary Exhibition 2013").
FAS was awarded by AICA
Celebrated the opening of PERIPHER - das begehbare Kulturmagazin in Zurich, Switzerland in September 10, 2010 as founding director, curated nine thematical exhibitions, supervised four rental shows and organized an Artist in Residence ~ Launched RAG @ Peripher in 2011 (till January 2012) ~ 2005/2006 founder of el-status.com - Independent Platform for Contemporary Puerto Rican Art ~ worked as a freelance curator for the photo gallery PL 900 at Casa Aboy (Mar 2009 - Mar 2010) ~ co-curated and participated in "Daily Strife", CMCArts, St. Croix (Oct 16, 2009 - Jan 16, 2010) ~ co-founded El Pulguero de los Artistas, 2008 and 2009 ~ collaborated as an artist and communications assistant in "Facing Locality", CMCArts, St. Croix, USVI (curated by Luis Camnitzer) ~ founded FAS - Feria de Arte Sonoro in 2008 and celebrated FAS 08 and FAS 2010 ~ initiated the Nakuru Residency Program for Caribbean Artists and celebrated the AFRICAN MARKET at the Galeria Yemaya (May 2010), an informal Deep East Africa portfolio show with arts & crafts bridging Africa to the Afro-Caribbean

MUSIC

Co-produced a Suturee LP (Skim The Surface, 2012) and a Ranjeet and the Ambassadors EP (2014) through crowdfunding sites.

LECTURING

private and group classes for individuals, companies and associations ~ co-designed the NDS Sozial Informatik (now: MAS in Social Informatics) at FH SG and lectured there and at the ZHdK (MAS Cultural/Gender Studies, now: MAS/CAS Cultural Media Studies) ~ Co-organizer of the ZHdK Cultural Entrepreneurship conference "Von der Kunst leben!" (April 2011) ~ Thesis mentor (CAS/MAS Cultural Media Studies, ZHdK)

PUBLISHING

Latest News:
"La imperfección de la realidad", Visión Doble: exhibition critique of "La mirada horizontal" by Carmelo Sobrino at the University Gallery of Sagrado Corazón, Puerto Rico

Essay and texts for the exhibition "Colonial Comfort"

The short crime story "Schicksalswende" ("Twist Of Fate") was published in "entwürfe - Zeitschrift für Literatur", edition 75, October 2013, subject: crime. ~ MAS thesis ~ photographic portfolio ~ articles (read sample in Spanish) ~ handbooks for webmasters ~ hand-outs and study papers for students ~ short stories (read sample in German) ~ published 100 web sites ~ founder and editor of el-status.com and of peripher.ch